February 11, 2009 posted by Shyama Venkateswar
[caption id="" align="alignright" width="298" caption="Photograph: Deshakalyan Chowdhury"]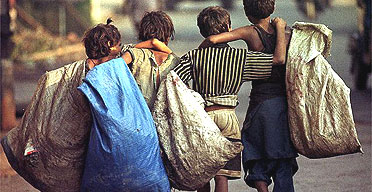 [2][/caption]
I was recently in Calcutta, India, my place of birth, home to where my mother, a sibling, old friends, and sweet memories still reside. This is my other "home" where I try to get to every year to renew and regenerate myself, and recharge from the stresses of a running a two working parents' nuclear household in frenetic New York City. My trip last month came after a two year gap; I felt the familiar overwhelming desire to be there, to be a part of the
sights and sounds of an India that were at once familiar and yet distant to me.
Having left almost 23 years ago to move to the US, I have a unique insider-outsider vantage point. I was born and brought up there; I know things instinctively – all the cultural puzzles, contradictions, nuances of language, wordplay and verbal cues, body language, subtle things - that only a native-born can ever know. But, having been away long enough, and trained in and working in a field where critical inquiry is required,
I can no longer accept without questioning the status and daily conditions of millions of people living in absolute poverty
, what Collier refers to as
The Bottom Billion
[3]. Even as India's economy grows steadily at about 8% a year, there are entire
communities of people, some 300 million of them, who live under a $1 a day without regular access to food, water, housing, livelihoods, reproductive healthcare or education.
Malnutrition in children under five is at a staggering 45%.
You cannot escape this reality in India, even if you choose to travel high-end. Outside every swanky 5-star hotel, every new luxury high-rise, shiny new shopping mall, all places where India's new upwardly mobile middle class and upper classes with disposable incomes eat, play and shop, there are shanties and shacks belonging to pavement dwellers and the homeless. Their day never consists of finding solutions to fix a troublesome global economy or dealing with geopolitical concerns like cross-border terrorism, issues that consume India's elite classes. These voiceless and nameless millions barely survive by scavenging for scraps of food for themselves. Their children's lives reflect nothing like the idealistic goals of the United Nations Convention on the Rights of the Child [4]. Their precarious life on the street is spent helping their mothers find scraps of food to eat, taking care of smaller siblings, begging, breaking stones at construction sites, dodging speeding cars and human predators.
Who is responsible to help these most marginalized and disadvantaged in India reach the fullest potential of what Amartya Sen in his seminal work, Development as Freedom [5], refers to as "human capability"? Who will nurture their minds so they can be engaged in the political process or have an opportunity to contribute to India's development plans which has provided prosperity to the already prosperous? What a waste of untapped human resources as India aspires to play in the big league of other political, economic and nuclear powers in the global arena.
India needs a social contract between its civil society and the state, one that takes into account current global feminist jurisprudence, defines personal rights, responsibilities, guarantees and freedoms that are forward looking, and explicitly delineates the space occupied by the public and private sphere. This contract would need teeth so that it can be enforced and have grounds for class action suits or Amicus Curiae (literally Friend of the Court) briefs, which in the U.S. have typically involved social questions, civil liberties and affirmative action.
It's not just the U.S. under President Obama's leadership that needs what Tom Friedman in the New York Times [6]refers to as a "radical" agenda to chart a new course globally that will renew U.S. credibility and leadership so cavalierly squandered in the last eight years. India, too, needs a radical agenda that promises human security to its most vulnerable populations – women, girls and the poor – while implementing the other traditional notion of the term, 'security' within its homeland and borders. The post-Bush era offers a new landscape where strategies for providing social justice can be seriously debated and heard across the world. India still holds its democratic ideals sacred; it has native intelligentsia, a vast network of civil society organizations, creative and innovative thinkers, technology experts, a free press and judiciary. Through political will and a strategy of public-private partnerships, India can become a global leader in pushing such an agenda forward. It can showcase its own best practices in social and economic advancements, but there's so much more to be done for its voiceless and homeless ragpickers, a symbol of India's continued indifference to this daily reality.
What can you do? First and foremost, find an issue that resonates deeply within you and learn more about it. Second, get involved in any of your local cash-strapped and struggling NGOs that keep the entire system from collapsing: volunteer in their service delivery, help raise money for their work, provide pro bono technical advice or leadership training, use your contacts to get media to report on these issues with hard data and research that organizations like mine, the National Council for Research on Women [7], can help generate. Individuals can make a difference; changing the mindset about the poor as idly waiting for handouts to desperately wanting livelihoods is critical to any development agenda. (Ending Poverty in South Asia: Ideas That Work [8], edited by Deepa Narayan and Elena Glinskaya) Real change can only happen through sustained pressure. Can India meet this challenge? It must; it doesn't have a choice.